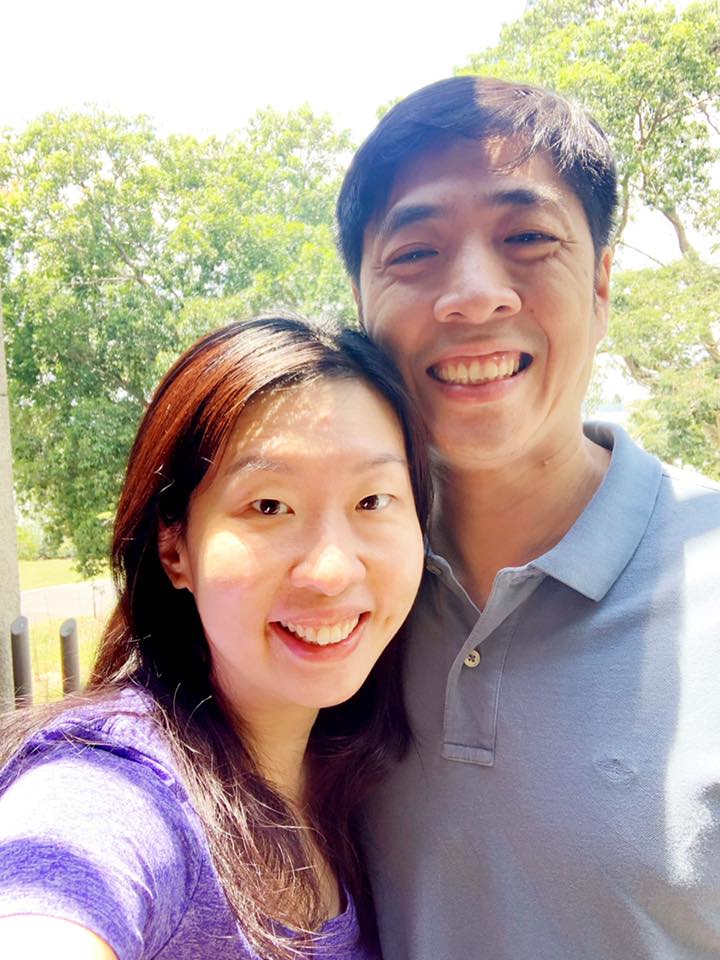 "Ding Dong!"
"Jamie, can you get the door, please? I think they are here to deliver our order of CRAVE Nasi Lemak!"
"Ok, I'll get it!"
.
.
.
.
.
.
Home sweet home?
Unfortunately no, we are at the recovery facility at D'Resort in Pasir Ris but thank God they allow food delivery!
We tested positive on my Day 6 and Jamie's Day 4, which means that Dr. A's curve is indeed very much accurate.
On the day of the move to D'Resort, we were given alcohol wipes to wipe down our bags, our phones, etc. We have to double-bag our belongings in these huge plastic bags that they give us. We also were asked to shower and change into a new set of clothes that we have asked to be sent from home that are in zip-locked bags.
In the event you do not have fresh sets of clothes like Jamie because the ambulance was too efficient to pick him up and he didn't have enough time to pack – he was provided with a new set of clothes – T-Shirt and skinny jeans! It was quite a sight watching him put on skinny jeans as it is absolutely not his style. It did make him look younger though! 😎
Prior to leaving our hospital room (Sorry but I will not miss you!), we were given a surgical mask to put on.
I have written Nurse Mavis a thank you note. I knew that her shift was later in the afternoon so on the way out, I handed the envelope for the nurses at the reception to pass to her. They did not reach out to take it and I was wondering why. Then it occurred to me that they cannot touch anything that I have touched! (Oops!) They passed me a sealed plastic bag with a "radioactive sign" to put the envelope in. Hence, I am not sure if she ever got to read the note. If she happens to be reading this, "Mavis, please continue to shine bright and be a blessing to all the people that you meet! Thank you so much for all that you have done for us during our stay at NCID!"
We were joined by 7 other patients in a Cisco van. It was so good to be out in the open! I have not been out of my hospital room for a week! OMG. I never have had such a deep appreciation for the scenery along the PIE (Pan Island Expressway). Everything looks so beautiful.
I was quite tickled that our van was escorted by a Cisco auxiliary police car. I joked with Jamie, "Maybe they are afraid that we will escape!" Imagine the news headline – "COVID19 Patients Escape During Transfer from NCID to D'Resort" with two of our faces on the front page. 🤣
Less than 30 minutes later, we have arrived. I looked longingly at the waterpark which was just next door at Downtown East but snapped back to reality as the van turns into the driveway of D'Resort.
Thankfully, Jamie and I are assigned to the same room again. I was delighted when we walked into our room for the very first time. It is more of an apartment than a room. It is a "maisonette" with a bathroom/shower, pantry, fridge and most importantly a balcony!!! Finally, I can get fresh air every day. We look out to a beautiful view of Pasir Ris Park lined with trees and overlooking the beach. So, if you want to say hi, you can come wave at me from Pasir Ris Park! There's definitely enough "social distancing". 😊
Since we arrived 4 days ago, we no longer have doctors and nurses visit us. We have been given an oral thermometer to measure our temperature. Officers from MOH will call 3 times a day to follow up on our temperature measurements and if we are experiencing any symptoms.
Meals are delivered 3 times a day. Not wanting to sound like I am complaining, but… the food here is definitely much much better as compared to NCID. Guess it cannot be helped as NCID being a hospital has to provide healthy, functional and understandably bland food. The best part of being at D'Resort is we can now receive deliveries – be it from family and friends or food delivery!!!
Other than working, catching up with family and friends, we have also acquired a new joint hobby of bird watching! The tall trees in front of our balcony are dotted with grey heron nests! On some evenings, we will just sit at the balcony and watch the grey herons. They swoop down gracefully, land nimbly and perch majestically on top of their nests. They are oblivious to the chaos around them, to how COVID-19 has wreaked havoc around the world, to how Singapore has just announced a month of "circuit breaker". They simply continue with their daily lives and their daily hunts. I am reminded of one of the bible verses that always reassures me in times of trouble. "Look at the birds of the air; they do not sow or reap or store away in barns, and yet your heavenly Father feeds them. Are you not much more valuable than they? Can anyone of you by worrying add a single hour to your life?" – Matthew 6:26-27
We are now waiting to do our first nose swab post-NCID. From the last I check, it will be happening on Monday 6 April. If we get a negative 🤞🏻, we get to be tested again 24 hours later. Two negatives and we can go home and be reunited with our children knowing that we are now immune. If it's positive, we need to wait another 4 days to be swabbed again.
My journey with COVID-19 has only been 10 days, but it has seemed like a lifetime.
I am so thankful that I am in Singapore when I was diagnosed with COVID-19. As much as I was worried when I first tested positive, I am also confident of the high level of healthcare I would receive. Having gone through the entire process of diagnosis to treatment to contact tracing to care during recovery, I can say with certainty, there is indeed is no better place to be in than in Singapore.
Overseas friends who have read my sharing have nothing but praises for Singapore:
– It seems that if one has to get COVID-19, SINGAPORE is the best place to do it. It seems unbelievably well organised, especially when comparing to reports from other parts of the world! (Friend from Australia)
– The way Singapore handles COVID… it's civilised, really. (Friend from US)
– Here I share the story of a friend and fellow EOer from Singapore. Good to read it so you can see how they are handling the situation there. The US and Puerto Rico have got a lot to learn. (Friend from Puerto Rico)
Every single person I have come across – from the lady who first called me from NCID, to the ambulance driver Mr. Nasir, to the nurses and the Doctors (special shoutout to Dr. A and Nurse Mavis), to all the hospital personnel, to the MOH contact tracing officer, to the team at the recovery facility… they have displayed utmost care and professionalism. And many of them have in fact gone above and beyond to put me at ease. This has touched me immensely because being in the service line, I know that to me (the patient), they are the one and only. But to them, I am just one of the many hundred patients they are serving continuously and concurrently. Yet, I was always made to feel special, that I was being personally cared for.
I have also realised that COVID-19 has indeed changed how we communicate and meet. In these 7 days, I have "met" so many of my friends that I have not seen for a long time. Where in the past, it would not be common to even get on a call i.e. we would simply Whatsapp or message each other… now, we would jump on a Whatsapp video call or a Zoom call to connect with each other. Friends have prayed for me, entrepreneur friends have shared best practices with me, secondary school friends have cheered me on – all over video calls. And while I have been "locked up" in my hospital ward, my team at work has been busy organising virtual speed dating events and virtual dates for our singles!
Being a Covid-19 patient has made me realise that this is indeed a disease that anyone can get anywhere. It transcends borders, genders, races, religions, age groups. Even if you think you are being extra cautious, there is still a chance you might get it. It is invisible, it could be anywhere, and someone could have it and not show any symptoms like Jamie.
Some friends have commented that reading our story sounds more like we are on a staycation than we are COVID-19 patients. Jamie and I are indeed very blessed to be the 80% who exhibit zero to mild symptoms. There are many cases that are moderate to severe where the patients require oxygen (https://bit.ly/2JEIy1l), be on the ventilator or be warded in ICU for days and weeks or even months.
An increasing number of my friends have lost a family member because of COVID-19 and my heart goes out to them. 😢 The worst thing about COVID-19 is that when someone dies, they die alone as nobody is allowed to visit them. Worst still, if you are still being treated for COVID-19 and your loved one passes away, you may not even be able to attend their funeral.
For the serious or fatal cases, they are usually of an older age group (60 and above) or have underlying health conditions. Since one could be an asymptomatic COVID-19 carrier, without even knowing that he or she has it, one could unintentionally pass it on to another person who could suffer serious or fatal consequences as a result.
Hence, even I know that the "circuit breaker" that the government has just announced yesterday that will begin on 7 April is going to have a huge financial impact on our business in Singapore, I totally understand why they did it and I support their decision. Let's all do our part to keep Singapore safe by staying home and practising social distancing to slow the transmission.
To all our leaders, our ministers, our healthcare workers, our frontline heroes… words alone cannot express my gratitude and deepest appreciation. Thank you so much for all that you do every day to look after us. I have never been prouder to be Singaporean.
#1millionhappymarriages #betterlifetimerelationships #LunchActuallyGroup